Acupressure shoes sole for foot magnet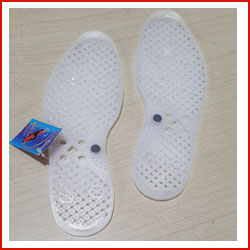 Acupressure shoes sole for foot magnet
Description :
ANCS sole is Boost immunity and increase height: Acupressure Foot massage can help improve immunity and increase height.
Scientific Design: with multiple acupressure massage points, 20 main acupuncture points.
Accurate points:Different feet sizes are configured with different insole sizes, accurate massage points can achieve better results.
Functions of Acupressure Insoles: Strengthen physique, arch support, planter fasciitis and insomnia relief, lower blood pressure, slim, eliminate foot odor etc.
Please use it continuously for at least 1 month to feel the effect of relieveness. You may feel pain when wearing acupressure soles the previous months,that is normal,it is healing your body and will improve in the future. So for your health, please stick to use it. But people with pacemakers and pregnant women are not recommended to use the shoes.
ANCS Acupressure sole free size anyone useful & giftable product
Any shoes in side easy fitting automatics adjustable & flexible.
| | |
| --- | --- |
| 015_A | 015_B |