kansya wati foot & face massager single wati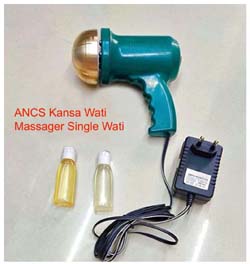 kansya wati foot & face massager single wati
Description :
Kansa is an Alkaline Metal that balances pH levels
Ideal for face and body massage
Boosts health through Marma Points massage
Relief from muscle pain
Helps in lymphatic drainage
Detoxification of the entire body
Strengthens the lower limbs and increases endurance level
Boosts joint mobility
Description
Ayurveda is the key to holistic health. During ancient times the practitioners of Ayurveda discovered that the Kansa (Bronze) metal balances the pH (acid) levels in the human body. Since then people started eating their meals on Kansa plates to improve digestion and reduce the acidity of the food. It became an excellent remedy for balancing three doshas: Vata, Pitta, and Kapha.
As per the Ayurveda, using Kansa utensils will drastically improve human health and strength. But the benefits of this sacred metal are not limited to digestion only.
Our body has certain energy points which are known as Marma Points. Ayurveda and ancient Chinese Medicine system describe these points as healing points for our body. Those points need to be rubbed and massaged in a proper manner to release stress and bring relaxation to the body. So this is where the Kansa Metal came into the picture as a holy massager tool. The healing tool/metal helps in facial glow along with deep relaxation and detoxification of the body.
Padabhyanga Kansa Massager
In recent years, skincare specialists stated that the presence of high acid levels in the skin leads to premature aging, wrinkles, and acne. This resulted in the search for skincare products that will help reduce skin acid levels and eventually the demand for Kansa Massager increased.
To satisfy this demand we at Vandana Tools introduced Padabyanga Kansa Massager back in 2018 and revived the centuries-old Ayurvedic massage tool. Since then we have sold 80,000+ products to our happy customers in India and become a leading Kansa Vatki Massager Brand.
We have designed this massager keeping professional and personal use in mind so that our customers can enjoy the holistic benefits of Kansa Massager comfortably from their living room. Use this tool to relax tired feet and unlock lymph nodes to boost blood circulation and avoid breakouts, inflammation, dullness, oil overload, and puffiness.
The Padabhyanga Kansa Massager is particularly useful for foot massage. As many nerves from almost all of the essential organs of the body terminate in the feet, a gentle massage of 15-20 minutes can reduce your stress of the day while improving your health and strength for the next day.
The regular use of our product can guarantee stress release and body relaxation along with a significant impact on facial wrinkles, dark circles, and signs of aging.
Why should you choose Vandana Tools?
Unlike others who are selling Kansa Wand which involves lots of manual work while massaging, the Padabhyanga Kansa Massager is an automated tool that requires less effort and delivers greater results within a short time. It is an electrically operated device with huge benefits over the manually operated Kansa Wand.
In contrast to the Kansa Wand which is mainly useful in facial massaging, the Padabhyanda Kansa Massager is designed for different areas of your body including feet, waist, shoulders, etc.
Our Kansa Massager is an all-in-one facial and body massage solution. The ultra-pure Kansa Vatki used in Padabhyanga Massager is manufactured using high quality and 100% pure copper and tin.
We offer comparably huge discounts on bulk orders because Vandana Tools is an OEM company and not any third-party supplier or dealer. So if you are a spa or salon owner with bulk requirements then get in touch with our sales team.
How to use?
Step #1 – Clean the surface of Kansa Vatki using a soft cloth
Step #2 – Connect the massager to the power supply using the AC adapter.
Step #3 – Choose compatible oil (or even the oil that suits your body) and apply it to your face or feet. This will ensure that the Kansa Vatki will easily glide over the skin without dragging it.
Step #4 – Now turn on the massager and gently massage your face or feet in a circular manner. Gentle pressure and appropriate direction is the key to the best results.
Continue this massage for at least 10-15 minutes.
Step #5 – Once you are done, clean the Kansa Vatki using a soft cloth.
Precautions:
Formation of Grayish Layer – You will notice at the end of the massage a gray tint will develop on your skin. It is due to the reaction between the Kansa Metal and acids of your skin. The formation of a Grayish Layer indicates the oxidation process which means acids are leaving your skin. You can easily wash out this gray tint with water.
Storing the Kansa Massager – Make sure you cover and store the massager in a closed environment because the metal can react with the air and you will notice the change in the color of the Kansa Vatki.
Features
Kansa is an Alkaline Metal that balances pH levels
Ideal for face and body massage
Boosts health through Marma Points massage
Relief from muscle pain
Helps in lymphatic drainage
Detoxification of the entire body
Strengthens the lower limbs and increases endurance level
Boosts joint mobility
Promotes circulation and movement of nutrients into facial cells
Improves immune system and restores inner healing mechanism
Instantly refresh your skin by removing the toxins
Reduces puffiness and fine lines around the eyes
Releases stress and tension
Improves inner glow and texture of the skin
Reduces wrinkles, inflammation, and acne
Facial muscles relaxation
Avoid premature aging
Enhances blood circulation
Ultra-pure ingredients lead to 100% pure Kansa
Easy to use
Affordable to everyone
Range of Kansa vatki shapes and sizes for different body parts
A 15-20 minutes massage before bed will help you in better sleep
Comparison Table
Package Includes
1 x Rounded Kansa Vatki
1 x Machine
1 x AC Adapter