ANCS Acupressure Twister Big 2 in 1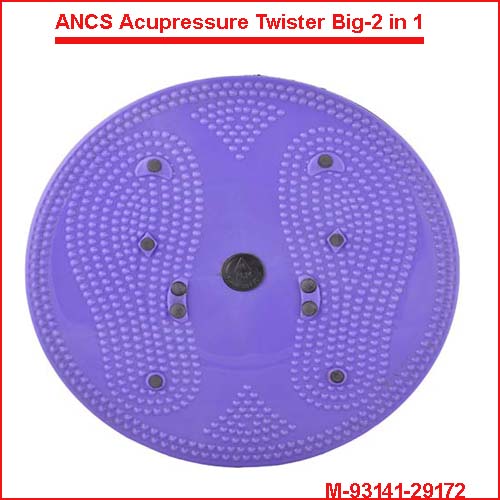 ANCS Acupressure Twister Big 2 in 1
Description :
Acupressure Twister BIG 2 in 1 : Based on Acupressure pyramid & Magnetic treatment therapy. This Disc transforms the body into an attractive shapely figure by getting rid of excess fat, flabby muscles, increases chest & gains energy.
INDICATION: For headache, tension, gastric, acidity, backache, sciatica, knee pain, leg pain, stimulate the pressure points on the sole and helps blood circulation. It is rough & tuff in use, made by high quality plastic, attached with double ball bearing disc & unbreakable.
एक्यूप्रेशर ट्विस्टर के ऊपर खड़े होकर अपने शरीर को दाये व बाये घुमाते हुए व्यायाम करे, इस व्यायाम द्वारा पेट एवं कमर पर घुमाव महसुस होगा | यह व्यायाम पेट व वजन घटाने तथा सीना बढ़ाने में सहायक है कमर सुडोल व लचकदार बनती है ! मासपेशिया मजबूत बनती है इसको दोनों तरफ से प्रयोग में लिया जा सकता है एक तरफ से कम तीखा व दूसरी तरफ ज्यादा तीखा होता है |
संकेत : सिरदर्द ,तनाव ,गैस ,कब्ज,कमर दर्द ,साइटिका ,घुटना दर्द ,पांव दर्द में भी आराम मिलता है ! इससे हमारे शरीर की मसल भी मजबूत होती है ! यह डबल बॉल बियरिंग का बना होता है !