Acupressure Twister Big Super 2 in 1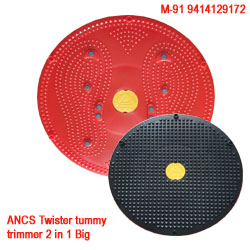 Acupressure Twister Big Super 2 in 1
Description :
Acupressure Twister Big Super 2-in-1 : Use 1st side Twisting and 2nd side energy mat. based on Acupressure points, pyramid & Magnetic treatment therapy. Acupressure Twister Big Super 2-in1 transforms the body into an attractive shapely figure by getting rid of excess fat, flabby muscles, increases chest & gains energy. use daily 3 to 5 minute.
2. Acupressure Twister Big Super 2 in 1 : (back side balck plate use) This acupressure device is one of the best alternate therapy instrument still very affordable and portable health tool. You can easily take this mat with you in your office bag or carry to a vacation place. Just put this magnetic-cum-acupressure pyramid mat on a plain surface and stand on it for 4-10 minutes (you can stand more time if you want to do) twice a daily. While you stand on the pyramid mat, the best thing you can do is upper body exercises like arm rotation , waist rotation ,neck exercises or even rub your palms to each other (rub till you feel heat on palms)

एक्यूप्रेशर ट्विस्टर बिग सुपर 2 में 1: (बैक साइड ब्लैक प्लेट का उपयोग) यह एक्यूप्रेशर डिवाइस सबसे अच्छा वैकल्पिक चिकित्सा उपकरण में से एक है, फिर भी बहुत सस्ती और पोर्टेबल हेल्थ टूल। आप आसानी से अपने कार्यालय के बैग में इस चटाई को ले जा सकते हैं या छुट्टी के स्थान पर ले जा सकते हैं। इस चुंबकीय-सह-एक्यूप्रेशर पिरामिड चटाई को एक सादे सतह पर रखकर 4-10 मिनट के लिए खड़े रहें (यदि आप चाहें तो अधिक समय लगा सकते हैं) दैनिक में दो बार। जब आप पिरामिड चटाई पर खड़े होते हैं, तो आप जो सबसे अच्छी चीज कर सकते हैं वह ऊपरी शरीर व्यायाम है जैसे हाथ रोटेशन, कमर रोटेशन, गर्दन अभ्यास या एक दूसरे को हथेलियां भी रगड़ें (जब तक आप हथेलियों पर गर्मी महसूस नहीं करते) !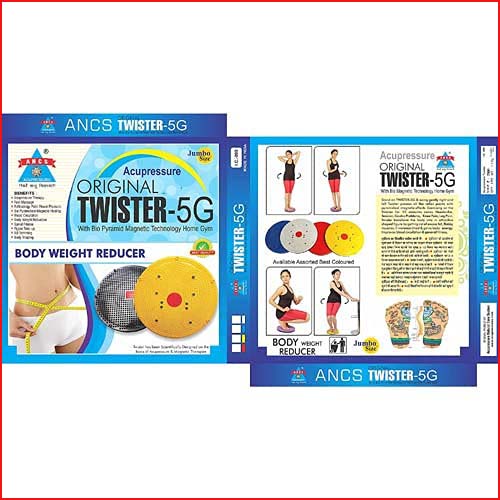 Twist and Slim