Sujok Jimmy Big ( Golden 6mm)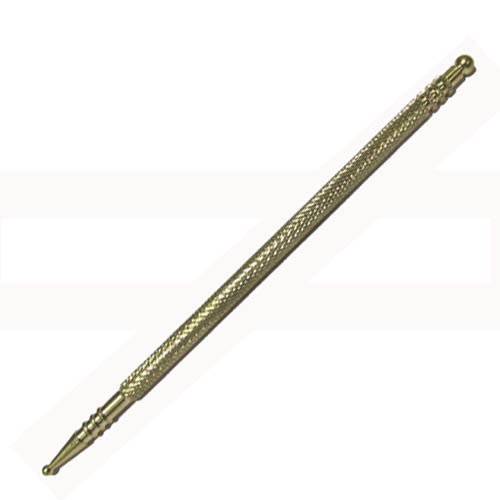 Sujok Jimmy Big ( Golden 6mm)
Description :
Sujok Jimmy Big 6mm Sujok Jimmy is an unique tool for su-jok doctors and Acupressure practitioners. It is a diagnostic & therapeutic stick used in identifying correspondence points. In su-jok healing, there are different types of Probes- Plain Probe, Probe with lens, Probe with massager, Probe with spring used for Onnuri Auricular Therapy etc. "Su-Jok" is a combination of two words, 'Su' means hands and 'Jok' means feet. SuJok actually means treatment on hands and feet. SuJok Acupuncture/acupressure is a Physical & Metaphysical, Natural Therapy of healing without drugs and medicine. Su-jok healing is a instant and effective therapy without medication. Su-jok is absolutely safe for human beings and does not have any side effects. SuJok helps in curing diseases like Arthritis, Bronchitis, Asthma, Cervical, Spondylitis, Backache, Joints pain, Migraine, Hypertension, Sinusitis, Deafness, Paralysis, Constipation, Acidity, Obesity, Diabetes, Blood-Pressure, Menstrual Problems and many more chronic disease related to different organs of our body.
wet-35 g.
Simple yet advanced tool for do it yourself treatment. For special Su-jok points of your finger. Use it in su-jok treatment. Essential tool for Sujok Therapist and Acupressurist. Used to diagnose sensitive acu points and it is also used to treat these points. The probe can also be used to give a generalized massage on any part of the body.
METHOD
Move the rounded end of the probe over the required search area of palms, fingers, feet or toes with uniform pressure. The most sensitive point will respond with a typical, sharp pain and is the acu point. To treat the acu point, press the same with the probe for the required length of time. For giving generalized massage, roll the probe along its length over the required part of the body.

PRECAUTIONApply just adequate pressure. Sharp pressure may cause intolerable pain to the patient. The skin may also painful in case the same is very thin.
सुजोक जिमी बिग 6 मिमी सुजोक जिमी सू-जोको डॉक्टरों और एक्यूप्रेशर चिकित्सकों के लिए एक अनूठे उपकरण है। यह पत्राचार बिंदुओं की पहचान करने में उपयोग में एक नैदानिक ​​और चिकित्सीय छड़ी है। सु-जेम हीलिंग में, विभिन्न प्रकार के प्रोब्स- सादा जांच, लेंस के साथ जांच, मालिश के साथ जांच, ऑननुरी ऑक्साइलर थेरेपी आदि के लिए इस्तेमाल वसंत के साथ जांच। "सु-जोक" दो शब्दों का संयोजन है, 'सु' का मतलब हाथ और 'जोक' का मतलब पैर है। सुजोक वास्तव में हाथों और पैरों पर उपचार का मतलब है। सुजूक एक्यूपंक्चर / एक्यूप्रेशर दवाओं और दवाओं के बिना चिकित्सा का एक शारीरिक और आध्यात्मिक, प्राकृतिक चिकित्सा है। सु-गेम चिकित्सा दवा के बिना एक त्वरित और प्रभावी उपचार है सु-जेक मनुष्य के लिए बिल्कुल सुरक्षित है और इसमें कोई दुष्प्रभाव नहीं है। सुजोक गठिया, ब्रोंकाइटिस, अस्थमा, सरवाइकल, स्पॉन्डाइलाइटिस, बैकाशे, जोड़ों का दर्द, माइग्रेन, उच्च रक्तचाप, साइनसिस, बहरेपन, पक्षाघात, कब्ज, अम्लता, मोटापे, मधुमेह, रक्त दबाव, मासिक धर्म की समस्याएं और कई अन्य पुरानी बीमारियों जैसे रोगों का इलाज करने में मदद करता है। हमारे शरीर के विभिन्न अंग से संबंधित है !