A Treatise on Advance book Part -18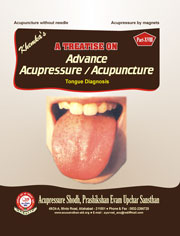 A Treatise on Advance book Part -18
Description :
Tongue Diagnosis
1. In this book, a person can diagnose himself by looking at his tongue in the mirror! When the patient's conflicting symptoms appear and we are confident in the diagnosis, then the tongue gives us information about the real disease.
2. Mental patients suffering from emotional prpblems get amazing benefits by giving treatment after seeing tongue and giving treatment by tongue diagnosis in depression mania schizophrenia etc. It happens
1. इस पुस्तक में व्यक्ति स्वयं अपनी जीभ शीशे में देखकर रोगनिदान कर सकता है ! जब रोगी के परस्पर विरोधी लक्षण प्रकट होते है और हमे रोगनिदान में द्धद्ध होता हो तब जीभ हमे असली रोग की जानकारी दे देती है !
2. Emotional prpblems से ग्रसित मानसिक रोगियों ली जीभ देखकर रोगनिदान कर उपचार देने से रोगियों को आश्चर्यजनक रूप से लाभ मिलता है बहुत से रोगियों के Depression mania schizophrenia पागलपन आदि में tongue diagnosis कर उपचार देने से कभी- कभी 24 घंटे के भीतर आशातीत लाभ प्राप्त होता है !