Sauna Belt Fahrenheat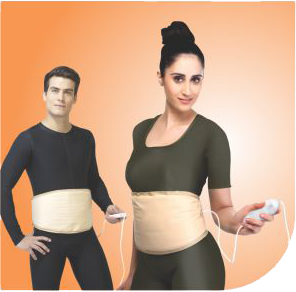 Sauna Belt Fahrenheat
Description :
Sauna Belt Fahrenheat Instant weight & measurement loss! Easy, cost effective method to reduce excessive weight. Provided with automatic temperature control (three steady heat levels). Helps you to sweat away the excessive kilos, flushes out toxins. Relives muscle pain, leaving you feeling relaxed and rejuvenated. Sauna Belt can be applied on back, waist, hips or stomach.
Adjustable one-size-fits-all with Velcro fastener. Automatic Temperature control. Three steady heat levels.
सौना बेल्ट फेरनहाट तुरंत वजन और माप नुकसान! अत्यधिक वजन कम करने के लिए आसान, लागत प्रभावी तरीका स्वचालित तापमान नियंत्रण (तीन स्थिर गर्मी के स्तर) के साथ। आपको अत्यधिक किलो दूर पसीने में मदद करता है, विषाक्त पदार्थों को बाहर निकालता है। मांसपेशियों में दर्द से मुक्ति मिलती है, जिससे आपको आराम और पुनर्जन्म महसूस होता है। सौना बेल्ट पीठ, कमर, कूल्हों या पेट पर लागू किया जा सकता है
वेल्क्रो फाउंडनर के साथ समायोज्य एक आकार-फिट - सभी स्वचालित तापमान नियंत्रण तीन स्थिर गर्मी का स्तर रखता है !