ANCS Shubham Swastik Yantra size 9"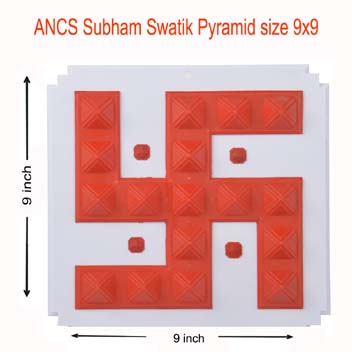 ANCS Shubham Swastik Yantra size 9"
Description :
Shubham Swastik Yantra Size 9"X9" This unique swastika is an auspicious symbol of fortune and wellness. Brings all-round prosperity and wellness. Creates purifying, divine & positive energy at the entrance, rooms, wall or objects. Must at home and work place for success and fast progress. Unfolds worldly pleasures as well spiritual enlistment to influence intellectual mind. Just place your Swastik between hands and close your eyes. With a positive mind program it with a personal wish. It is also very effective for cash box, cupboards, pooja rooms, computer, study table or other such places. It can be used in multiples of 3 and 9 at a time for Vaastu and Pyravaastu.
Swastik in Hinduism and India - Swastik has been a symbol of good luck from time immemorial in Indian (Hindu) homes. Swastik can be seen drawn at doors, walls and many auspicious places in Hindu homes to signify good luck and well being. Swastik is also found even more prominently around many festivals and coming from a hindu family. As a kid, I've drawn Swastik (Swastika) myself on the walls in my home around Diwali for a long time.
शुभम स्वास्तिक यन्त्र 9"X9" हमारे घरो में किया जाता है इससे हमें पॉजिटिव ऊर्जा मोलती है यह हमारे जीवन के लिए अति आवश्यक स्वास्तिक है इससे हमें लाभ मिलता है इसको हमारे घरो में, पूजा रूम में, कम्प्यूटर ,स्टडी टेबल पर इसका उपयोग हम ले सकते है इसका ज्यादातर प्रयोग इंडियन घरो में अपने गुड लक के लिए किया जाता है ताकि हमारा भविष्य अच्छा बना रहे !
Lenth:-6/6 Centemeter