A Treatise on Advance Book Part -24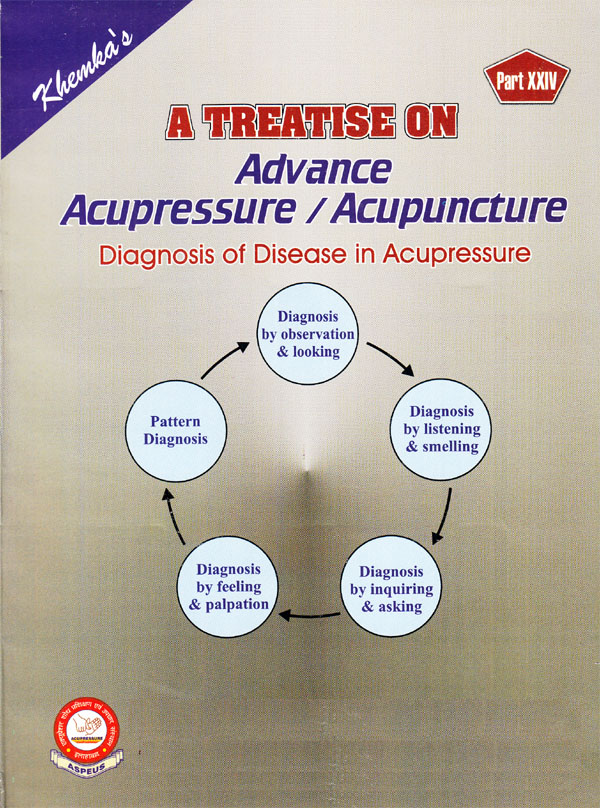 A Treatise on Advance Book Part -24
Description :
PART - 24 In acupressure, by looking at the signs and diseases outside the body, the working capacity and diseases of the organs inside the body are detected. And where is this error in that element? And to what extent has the error gone? With the experience of many years, a specific, clear and effective method of diagnosis of diseases in acupressure has been developed. By giving treatment by proper diagnosis, the disease of internal organs gets cured and external symptoms also get cured
.Diagnosis by observation & looking
Diagnosis by Listening & Smelling
Diagnosis by inquiring &asking
Diagnosis by feeling & palpation
Pattern Diagnosis

एक्यूप्रेशर में शरीर के बाहर के संकेतो एवं रोगो (Symptoms)को देखकर शरीर के अंदर के अवयव(Organs)की कार्य क्षमता तथा रोगो का पता लगाया जाता है !बाहर की एक फुड़िया हमे संकेत देती है की अंदर किस अवयव(Organs) में गड़बड़ी है !तथा ये गड़बड़ी उस अवयव में कहाँ है? तथा गड़बड़ी किस स्तर तक चली गयी है ! कई वर्षो के अनुभव से एक्यूप्रेशर में रोग निदान Diagnosis of Diseases की एक विशिष्ट,सुस्पश्ट एवं प्रभावी विधि विकसित की गयी है। Proper Diagnosis करके उपचार देने से अंदर अवयव Organs की बीमारी ठीक हो जाती है तथा बाहर के symptomsभी ठीक हो जाते है !