ANCS Pyramid Water Kit Assorted Colored (Set-10pc)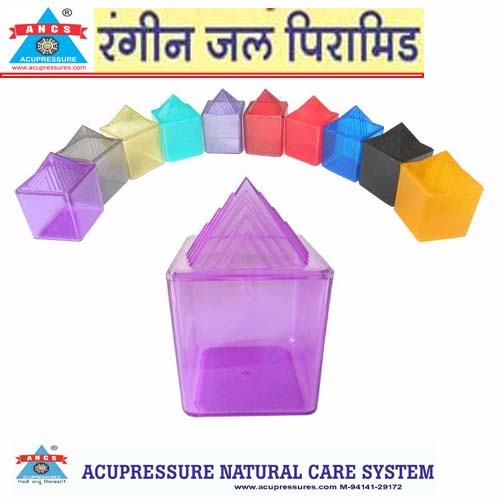 ANCS Pyramid Water Kit Assorted Colored (Set-10pc)
Description :
Pyramid Water Kit Assorted Colored 10pc
The coloured water pyramids combine the science of colour therapy, water therapy and pyramid therapy on the basis of five elements principles and seven chakras of human body. It is believed by many die-hard pyramid fans that by drinking the water charged in these water pyramids helps in healing physical problems. Many peoples are use this pyramids also. The Colour Therapy Water Pyramids are available in 10 colours : violet, indigo, blue, green, yellow, orange, red, pink, black & grey.
Size (L x W x H) : 38 x 15.5 x 10 cm approximately.
पिरामिड वॉटर सैट मिश्रित रंगों में (10 कलर में उपलब्ध )
पिरामिड पानी किट विभिन्न कलर में उपलब्ध है. इसका प्रयोग पानी को पिरामिड सेट में भरकर किया जाता है इसका पानी पिने से मनुष्य शरीर के सातों चक्रा का संतुलित बना रहता है शरीर में कलर सेल्स को भी एक्टिव करता है जैसे लाल, पिल्ला, हरा, काला, नीला आदि कलर से हमारे शरीर पर होने वाले प्रभाव की पूर्ति करता है इसमें पिरामिड एवं कलर दोनों थेरेपी का प्रयोग साथ में होता है नियमित पिरामिड कलर का पानी के प्रयोग से शरीर की विभिन कार्यसमता में लाभदायक है|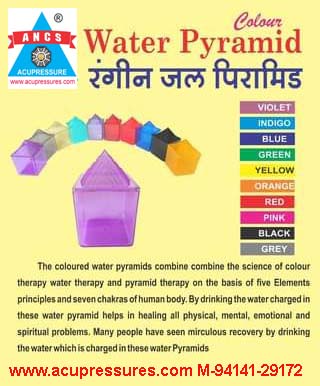 766_Water Pyramid Use Photo