Flamingo Orthopaedic Heating Belt ( Extra Large )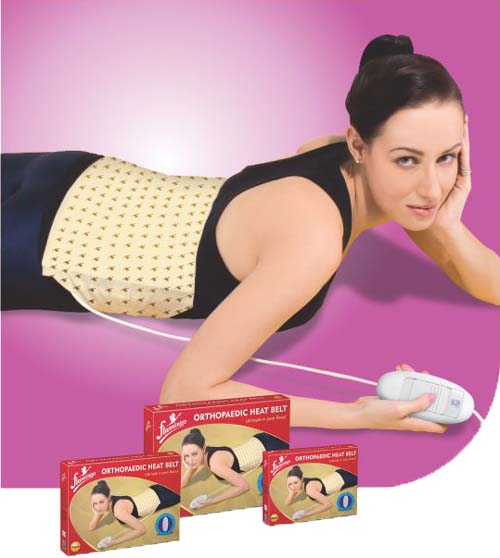 Flamingo Orthopaedic Heating Belt ( Extra Large )
Description :
Best For Orthopaedic Heat Belt Regular Shoulder Joint, Back, Elbow Joint, Knee Joint. Quick relief from: Backaches, Sprains, Muscular & Joint pains, Abscesses, boils. For Women-related pains (Under the guidance of a gynaecologist).
Imported long-lasting heating element.
Ultra soft washable cover
flexible-can be used on any afflicted area
in-build twin thermostat for 100% safety
Velcro strap-on belt
4 layers of insulation on either side for complee comfort & safety
Extra long connecting cable
Available in 3 convenient sizes
Technical Specifications (Voltage:240 Vac, Wattage: 45/24 Watta, Size:29.5cm X 21.5 Cm).
हीटिंग बेल्ट ऑर्थोपेडिक रेगुलर साइज में ये बेल्ट को कंधे में दर्द, पीठ, कोहनी, घुटने में राहत, कमर-दर्द में बहुत महत्वपूर्ण है। यह इम्पोर्टेड क्वालिटी में लम्बे समय तक चलने वाला बेल्ट है। अल्ट्रा सॉफ्ट कंवर के साथ इसको पानी से धो सकते है। ये सॉफ्ट और मुड़ने वाला है जो मरीज या प्रयोग लेने वाले के दर्द वाले स्थान पर लपेटा जा सकता है। 100% सुरक्षा के साथ थर्मोस्टैट में निर्मित। कनेक्टिंग केबल लम्बाई में फुल साइज की होने से आप पुरे रूम में कंही भी दूर तक प्रयोग लेने में सुविधाजनक है। तीन साइज में उपलब्ध है तकनीकी निर्दिष्टीकरण (वोल्टेज: 240 Vac, वाट क्षमता: 45/24 वाट, आकार: 29.5 सेमी एक्स 21.5 सेमी)