One point Treatment -Book-6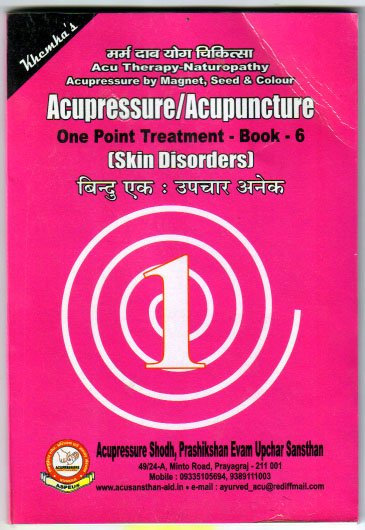 One point Treatment -Book-6
Description :
One point Treatment -Book-6 : This book Acupressure/Acupuncture (Treatment Of Skin Disorders).
Skin Diseases of vagina
Skin Diseases Of Uterus
Skin Problems Of Genitalia
Skin Problems In testis
Abscess & Boils
1. इस पाकेट बुक में शरीर के सबसे बड़े Organ,Skin जो की लगभग 20 Sq.ft में फैला है और इसका मुख्य कार्य शरीर को Microbes और बाहरी वातावरण से शरीर के अंदर के Organs,Muscle,Tissuse इत्यादि को भी बचाना है साथ-ही-साथ ये शरीर के तापमान को Regulate करते हुए सर्दी, गर्मी और स्पर्श की अनुभूति भी करता है
2. यह पुस्तक 76 पन्नो की है और इसमें 68 चर्म रोगो का एक बिंदु से उपचार चित्रों सहित दर्शाया गया है वभिन्न चर्म रोगो यथा skin ulcer,Facial adenitis, Furunculosis,Chopped lips, Glassitis, Mouth ulcer, Tumor of breast Asenopathy, scrofula-Goiter, Nasal Polyps, Carbuncle pnose, Pruritis of Eye Abscess, Mastitis, Orhitis, Rectal Prolapse, Neuropathic affection, Vagina, Uterus, Genitalia Testicles इत्यादि के साथ-साथ Abscess और Boll का उपचार चित्रों सहित दर्शाया गया है !